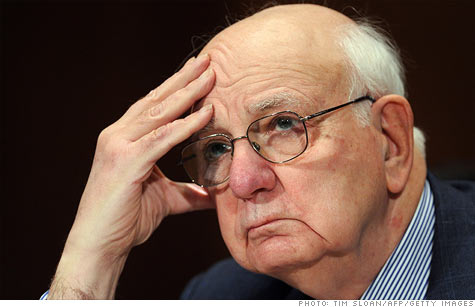 Barry Ritholz points out why The Volcker Rule is A Good Thing
.
First the Volcker Rule - in its simplest form sez "Banks can not speculate with consumer money".
In a wee bit more complicated form, it sez
.
Trading restrictions placed on financial institutions. The Volcker rule separates investment banking, private equity and

proprietary

trading

(hedge fund) sections of financial institutions from their consumer lending arms.

Banks are not allowed to simultaneously enter into an advisory and creditor role with clients, such as with private equity firms. The Volcker rule aims to minimize conflicts of interest between banks and their clients through separating the various types of business practices

financial

institutions engage in.
So, why does Barry think this is
A Good Thing
. In short, just two words -
MF Global
.
To quote -->
Recall the basic facts of MFG: Management engaged in leveraged speculations with monies — whether it was their own or clients became irrelevant as the losses were so great as to wipe out much more capital than the bank actually had. Billions in losses meant MFG was insolvent and was wound down. On the winning sides of those trades were folks like JPM and George Soros. It is neither their duty nor obligation to verify whose money is on the other side of the trade — the clearing firms make sure the trade settles.
Those trade settlements are the only possible outcome. Why? Imagine a burglar robs a house of cash, goes to a casino and loses the money playing Roulette. The Casino settles that bet, it clears — and the burgled homeowner can never recover the money. Exchanges work the same way. They simply cannot validate the capital sources of every transaction. In the case of MFG, he money wasn't even burgled — it was simply entrusted to an entity that became

so insolvent

thru excess speculation that even money in "Segregated accounts" was highly compromised.
And therein lay the dirty little secret of modern banking:

THERE IS NO SUCH THING AS A SEGREGATED ACCOUNT. It is simply a helpful way to think about money and banking; it does not exist in the real world.
And that is why, the next time you hear some talking-head saying "The Volcker Rule" goes too far, or the otherwise usually smart Andrew Ross Sorkin
spouting a Wall Street talking point
, just repeat to yourself "
MF Global
".